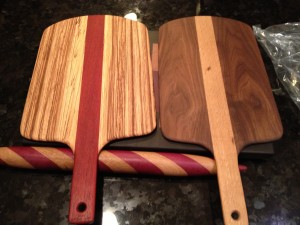 My paddle servers happened by request.  A number of clients suggested they would like to use the peels for serving appetizers.  Enough discussion of this ensued that I made a few slimmer and shorter versions of my peels.  They were a hit and continue to be.  They are really nice for serving bagettes or other breads.  Or used as a Charcuterie Board with meats and cheeses.  They are fine to cut on.
Pricing:
Short Paddle: $59.00
Long Paddle: $69.00
To buy please contact me or visit my Etsy Store.
I accept cash, cheque, Visa, Mastercard and PayPal.