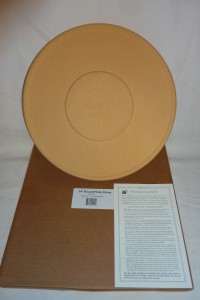 Pizza Stones (also known as Baking Stones) are the key to making excellent authentic pizza at home in your oven or BBQ.  You don't need a pizza oven!!!  I can't tell how many people love my paddles but won't buy one because they don't own a pizza oven.  Well, neither do I.  I send instructions on how to make perfect pizza with every paddle and stone I sell.  It's super easy.
Old Stone OvenTM Pizza Stones
Over 35 years ago the Old Stone OvenTM Company introduced the original baking stone for home use, designed by international pizza expert, Pasquale Bruno. I believe it's the best. Thicker than other stones available and made of a special blend of lead-free clays, it has a porosity and heat retention that is unmatched for giving a delicate crispy, restaurant-quality crust to any pizza, focaccia or bread in a standard home oven. Oven and grill safe to 2000°F.  Now they have added Heat Core. Specially- engineered Heat Core Centers have been incorporated into the 16″ x 14″ Rectangular to concentrate heat at the center, delivering a perfectly crispy crust EVENLY throughout your pizza. This solves the occasional problem of a large pizza having an under- baked center while the outer edge is perfectly crispy and crunchy. These stones can also be used with care on outdoor grills—both charcoal and gas-fired. Recipes and instructions included. All are made in the USA.  Pricing:16″ x 14″ Rectangular: $69.00 To buy please 
contact me
 or visit my 
Etsy Store.
I accept cash, cheque, Visa, Mastercard and PayPal.